Pictures SURFACE BONDER INTEGRA Xi
click to enlarge the image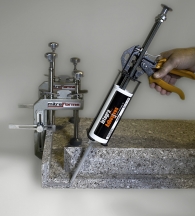 Description SURFACE BONDER INTEGRA Xi
Epoxy Modified Methacrylate Adhesive for Quartz – Natural Stone – Solid Surface

Laminating / Seaming / V-Groove systems
Automates Adhesive Application
Provides the Strength of Epoxy, the Speed and Color stability of Acrylic
Reduce Waste, Eliminate Hand Mixing and Tinting
200 colors create invisible seams and laminations
Polish to match the gloss of surrounding material

A premium grade adhesive for bonding Solid Surface sheet goods and molded products. Also available in a wide range of colors matching major brands of Quartz Surfacing, and Natural Stone. This Epoxy Modified Acrylic reduces labor by eliminating hand mixing and is designed to produce strong, fast curing, invisible seams. The stock color line covers over 3000 surfaces from leading manufacturers and slab suppliers. Custom colors and cross reference charts are available upon request.
Making the Switch?

Create invisible seams with the industries most comprehensive selection of colors and unlimited custom colors.
Color Selector cross-reference charts available for all major brands.
Strongest bonds on the largest selection of materials.
Surface Bonder Xi. Designed for use with Solid Surface, Quartz Surfaces and Natural Stone
Custom formulations available for special applications needs such as faster cure, extended working time, or increased flexibility.
Standard formulations develop handling strength in as little as 20 minutes.

Videos SURFACE BONDER INTEGRA Xi
click to play the video

Video 1