Pictures Vertical Edge polisher machine, CANTER 8-4-G
click to enlarge the image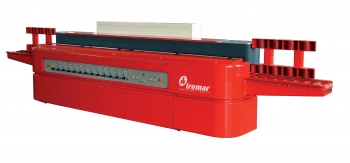 Description Vertical Edge polisher machine, CANTER 8-4-G
¡IMCOMPARABLE!

CANTER vertical edge polishing machine Maximum precision and quality The CANTER straight edge polishing machine is a new experience. A machine designed and built for manufactures of maximum precision and quality.

Straight edge polishing machine has been designed for doing the polishing and shining the edges of marble, granite and synthetic materials.
This new model is the first in world to be made in cast iron, the cast iron structure guarantee perfect stability that's impossible for steel frame.
This model has 8 frontal spindles, 2 top bevelling spindles, 2 bottom bevelling spindles and group disk / water drip. With this equipment you do a big production with perfect finish.

All the spindles are independent, each spindle has his own pressure regulator, each spindle can be enabled or not to work.
Another new in CANTER, the motorized oscillation move the spindles group, 8 vertical spindles, transversally to the edge, this improve the quality of the polishing and the performance of the machine.
The adjustable spindle allow, the machine to perform various job on the stone like gauging, calibration, edge gauging, upper groove, lower groove, sloping cuts, and is able to mill shaped profiles with the apposite shaped tools.
The pressors are double shaft cylinders with 150mm of stroke. The rollers are covered with a soft anti-wear plastic material, all the rollers are completely made in plastic materials, they spin on long life lubrication bearing made in synthetic material with glass balls.